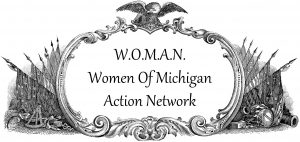 ACTION MEETINGS
WOMAN holds an Action Meeting every second Tuesday from 7pm-9pm.  During the Coronavirus  "Stay Home – Stay Safe" order, we have been meeting via Zoom.  As of June 2020, we have not made plans to transition back to in person meetings. Contact us at WomanActionNetwork98@gmail.com
for more information.
In addition to our action meetings, you can find us hosting, partnering, or attending action events.
Check our Facebook page for a view of our upcoming events.
Event details are available on Facebook
SOME PAST EVENTS
Midland Sister March
January 21, 2018

Tax March
WOMAN is hosting the local Tax March on April 15, 2017,  part of a national march to demand President Trump release his tax returns. Get more information here.
March for Science
WOMAN members were part of the planning team and WOMAN participated in the March for Science Midland on April 22, 2018. Get more information here. There was a sign-making party and a puppet making workshop (life-size puppets) prior to the march!
PAST EVENTS
Performance Protest
On Saturday, April 1, 2017, WOMAN members performed a public reading of George Orwell's dystopian novel 1984. We also performed "Quiet" by Milck flash-mob style.
Vigil for the ACA
WOMAN held a vigil for the Affordable Care Act in front of Rep. Moolenaar's office in anticipation of the vote on its repeal in favor of the GOP AHCA plan, which would have set healthcare availability back years and left 24 million currently insured people without insurance. At the vigil, we shared personal stories of how the ACA has helped and even saved the lives of some of our members.
The public outcry across this great country worked! While we still haven't achieved single-payer, at least we didn't go backwards as a country in our progress to make healthcare accessible to all! View our celebration.
Meeting with Mr. Moolenaar
Representatives from the WOMAN team accepted Mr. Moolenaar's offer to meet to further discuss an open forum.  We met with him on February 24, 2017.
Show of Presence at Rep Moolenaar's Office
WOMEN is hosting an event at John Moolenaar's Midland office to request that he join us at an open forum for WOMAN members and other interested constituents.  Repeated emails and phone calls to his office were either not responded to or we rebuffed, so we are showing up to be heard!   Meet at the Farmer's Market at noon on Thursday, March 23.  Civil discourse begins by showing up.  We want Mr. Moolenaar to show up for us!
Islamic Center Meet and Greet
WOMAN participated at a meet and greet event at the Islamic Center of Midland on SUNDAY, FEBRUARY 5, 2017 from 1:30 to 4:30pm for an informal meet and greet!  WOMAN leadership team member Sarah Schulz was one of the guest speakers at this community bridge-building event.
10 Actions in 100 Days
WOMAN participated in the Women's March on Washington follow-up of 10 Actions in 100 Days.
https://www.womensmarch.com/100
WOMAN went to Washington!
WOMAN took over 200 people from the Midland area by bus, car, and air to the Women's March on Washington on January 21, 2017.
Sister March in Midland
All WOMAN buses are full! If you can't make it to Washington or Lansing but still want to march, WOMAN is also hosting a solidarity march in Midland on the same day for those who cannot attend the Washington event. We will march at the corner of Eastlawn and Saginaw from 3pm-5pm on Saturday, January 21st. Join us!
Sign-making party
We will have a sign making party this Thursday, January 19, during our next scheduled meeting. If you're coming to Washington, be sure to put a small image of our state of Michigan on your sign!
Contact us at WomanActionNetwork98@gmail.com for more information or if you'd like to join us!