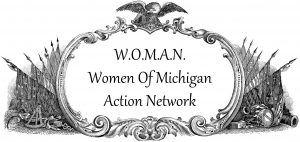 W.O.M.A.N. is a local progressive action group dedicated to positive change and resistance.  We are based in Midland, Michigan and have over 1,300 members. W.O.M.A.N. formed in response to the election of Donald Trump to resist the misogynistic, xenophobic, and racist rhetoric and policy direction. We are committed to forward progress in human and civil rights with equal economic opportunity and compassionate policy.
Participation in W.O.M.A.N. is open to anyone of any gender who is an ally and who wants to work to affirm and promote the dignity and respect of all people, along with equal economic opportunity for all people.  W.O.M.A.N. actively supports progressive candidates for office at the local, regional, and national level.
WOMAN has been around since Nov of 2016!  Most of our activity and informationcan be found on our Facebook page, but we are working to update our website and make it more useful. Check back again for more information as we expand our website to find out more about us and our upcoming events.